Raise the Avro Arrow: Group looks to recover prototypes from Lake Ontario, 60 years later
Between 1954 and 1957, nine Avro models were fired at the lake to test its design and flight — they are now 'the only intact pieces of that whole program'
The Avro Arrow was Canada's aviation superstar of its day — before the program was scrapped and almost all trace of it destroyed. But nine unmanned prototypes were fired into Lake Ontario during testing.
The Avro Arrow models, one-eighth the size of the jet at about three metres long with a two metre wingspan, were launched with booster rockets between 1955-57 from Point Petre in Prince Edward County, east of Toronto, to test the flight design before the CF-105 Arrow was produced.
Now, sixty years later, the OEX Recovery group, in collaboration with the Canada Aviation and Space Museum, is heading into Lake Ontario find them.
"Raise the Avro Arrow" (National Post) >>>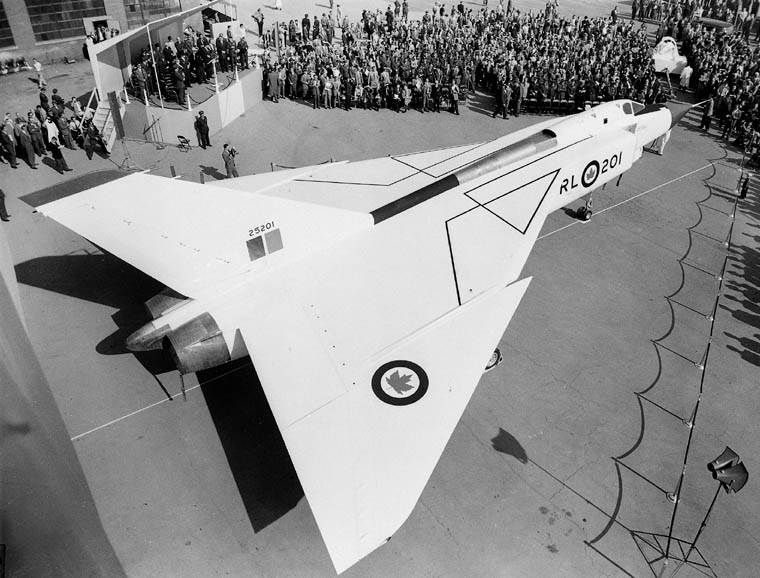 The first Avro Arrow, RL-201, is officially rolled out on 4 October 1957.
Credit: Library and Archives Canada / PA-210520.
Other reports:
THE ORENDA RING (Ottawa Rewind)
Avro technicians prepare an Avro Arrow test model attached to a Nike booster rocket to fire out over Lake Ontario at Point Petre in the 1950s.
O pilocie doświadczalnym Avro Arrow, płk Januszu Żurakowskim (1914-2004) czytaj w naszym biuletynie New Link z roku 2004. (PDF)
---